Young Echo Sound
Heavyweight Champion
Heavyweight Champion is the result of six years' collaborative collage works for Bristol's Young Echo collective. As is sometimes the way with these projects, it's been a long time in the making - a first draft of this publication was sent to print in 2018 but, for reasons only known to the printer - never made it as far as the press...

Artwork by A. Childs & S. Barrett
Layout - Studio Tape Echo
Published by Mechanical Reproductions 2020

Bad Tracking
A: XP-3
B1: XP-1
B2. XP-1 (Ossia Rmx)
Mechanical Reproductions give vinyl life to Bad Tracking - one of Bristol's best kept underground secrets - with two cranky industro-dub girders backed by a serious remixing from Ossia.

Thunking out somewhere between Giant Swan, Kowton and Mick Harris' Fret, Bad Traking are set to gain the baddest rep with both efforts, first vacillating bone crunching drums and stress-test bassline with lush pads in the livewire lurch of XP+1, then trampling the line between on-the-fly performance and brute studio force in the grubby techno tilt of XP+3.

Ossia's remix of XP+2 is our pick of the bunch. From introductory bell tolls, he builds a mongrel beat from snatches of grime, industrial techno and dank Bristol dub styles, riveting the sound into a blindspot between late '90s Virus, TG and The Bug.

- Boomkat
W&P by M. Pearce & G. Apps
Additional production/remix on B2. by D. Davies
B1. & B2. Mixed at BTSC
Mastered by Lewis at Stardelta
C&P Mechanical Reproductions 2017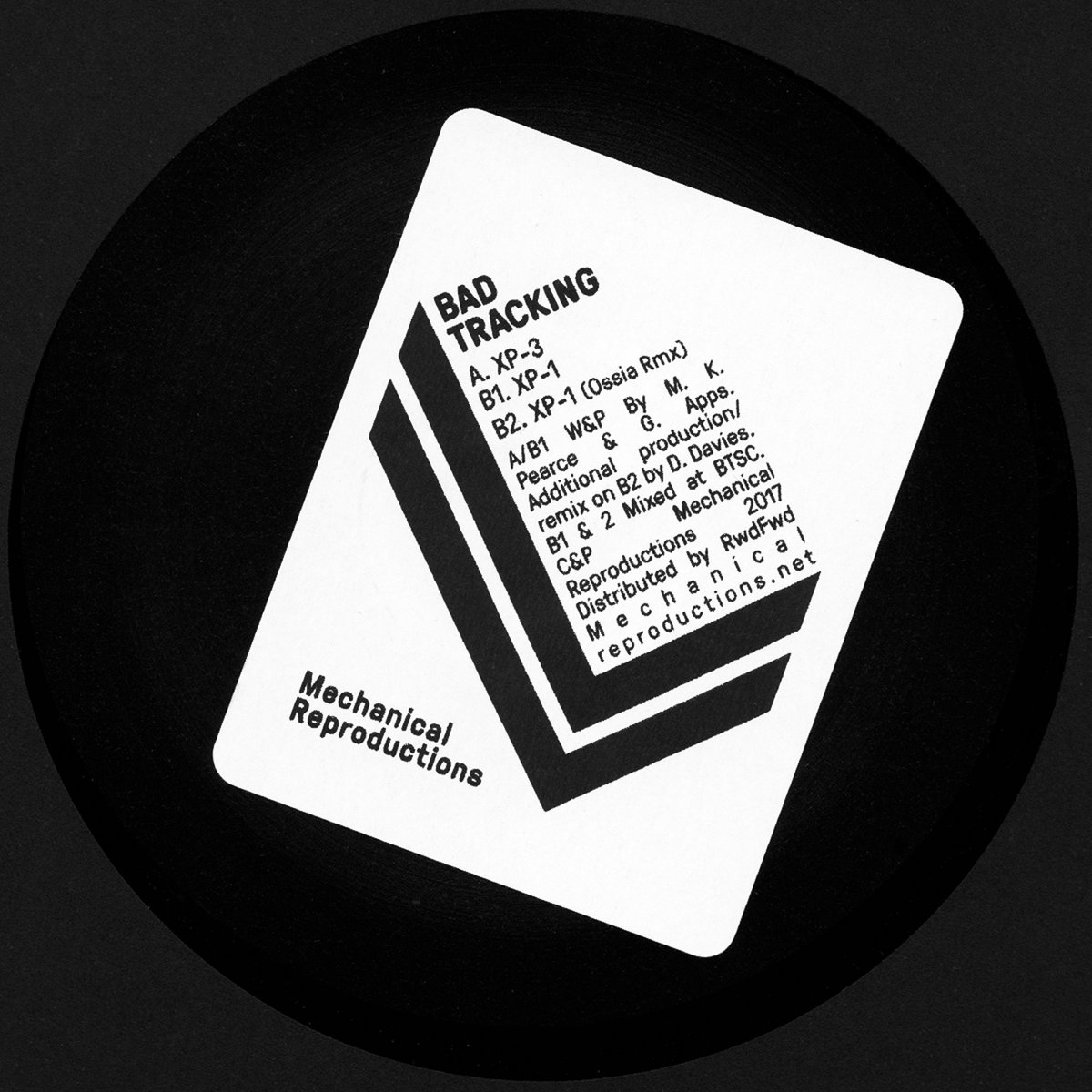 Via Maris
A: Credentials
B: Glimpse
Mechanical Reproductions thrown their hat in the ring with a brooding debut of half-stepping Bristol techno by new producer, Via Maris. Lovers of Livity Sound or Timedance rollers need a piece of this one…

A-side; Credentials tramples a spare, clipped rhythm until it steps on a hornets nest of mentasms which fan out on a search and destroy mission, divebombing like kamikaze or in swarming clusters around the nerve-bitten groove.

B-side; Glimpse gets off with whinier sci-fi synth tones and spooked electronics fixed to a rickety wooden knock at the darker end of Bristol bass traditions.
W&P By B. Burke
Mixed at BTSC
Mastered by Lewis at Stardelta
C&P Mechanical Reproductions 2016